Free Wedding Planning Guide to Stay On Budget
You know those "Guides for Dummies," well, we know you are no dummy. You've probably just never planned a wedding before! Here is your guide to get started.
Not Your Average Wedding Planning Guide
You're preparing to spend the rest of your life with your best friend and that is a milestone worth celebrating! But with wedding planning comes lots of questions…
"How to plan a wedding?" "How to start planning a wedding?" "How do I pay for a wedding?" "How long does it take to plan a wedding?" "What to consider when planning a wedding?" "What should I put on my wedding registry?" "How do we afford a honeymoon?"
If you've been asking yourself – or Google – these questions, then you're in the right place. Here at Honeyfund, we believe that you should feel empowered to celebrate your love in an authentic, unique, and personal way – without breaking the bank. That's why we created this wedding planning guide to help you through every stage of planning – plus a FREE bonus worksheet to help you create your authentic budget plan.

Think Big Picture for Your Big Day
First things first, start thinking big picture with your fiance! As soon as you say "yes" everyone will be asking for details like your date and venue. But before making any decisions, it's important to take time just the two of you to talk about your expectations for your wedding.
Start by talking about your answers to these questions with your soon-to-be-spouse:
When you think about your wedding, what does it look like?
How would you describe your wedding style? Is it casual or formal?
Do you dream of a big wedding or private nuptials?
Do you have a season or date in mind?
How long do you want to be engaged?
How much are you comfortable spending?
Let's Talk Money
As you start planning your wedding budget, it can be overwhelming to hear about the "average" cost of a wedding that big wedding planning companies boast – upwards of $35,000. The truth is, averages don't matter when it comes to YOUR love, YOUR authentic financial situation, and YOUR perfect wedding plan. What matters is simple: Being true to yourselves.
That's why we've created the 1-Page Wedding Plan™ – an AIR-TIGHT wedding plan, impenetrable from the common mistakes couples make. It will give you the organization you need to pull off the most beautiful, authentic, and memorable wedding at a fraction of the average wedding cost.
The 1-Page Wedding Plan™ is your FREE ultimate resource to plan your wedding, and solve your budgeting problems. Whatever your financial goals, our plan ensures you have a perfectly YOU wedding and start your marriage strong. The best part is, Honeyfund's 1-Page Wedding Plan™ actually shows you how to have money in the bank on the first day of your marriage.
Prioritize Your Wants
Once you have calculated your realistic budget using the 1-Page Wedding Plan™, it's time to prioritize your spending. Weddings are full of details that add up much quicker than you might expect.
Before making any decisions or signing any contracts, chat with your partner about what details are most important to each of you. You'll then be able to prioritize your spending in areas that matter the most. For some couples, that means a large percentage of their budget goes to photography, while for others it may be the food or music.
The most important thing to remember is your wedding budget is exactly that – your wedding budget. That means you can spend your wedding budget however you decide as a couple.
Now Let's Plan!
Now that all your pre-planning prep work is done, it's time to make your wedding vision come to life!
Guest List
Your guest list is one of the first details to tackle because it impacts your overall budget, and decisions like your venue. While it may feel daunting, it doesn't have to be stressful!
Our 1-Page Wedding Plan™ helps you calculate your maximum number of guests based on the budget you've already set. Once you've calculated the number of guests you can invite, make a date with your fiance, grab some drinks, and start making your list! Start by writing down names of your friends and family you're closest with, then continue working your way through friends and family until you run out of space.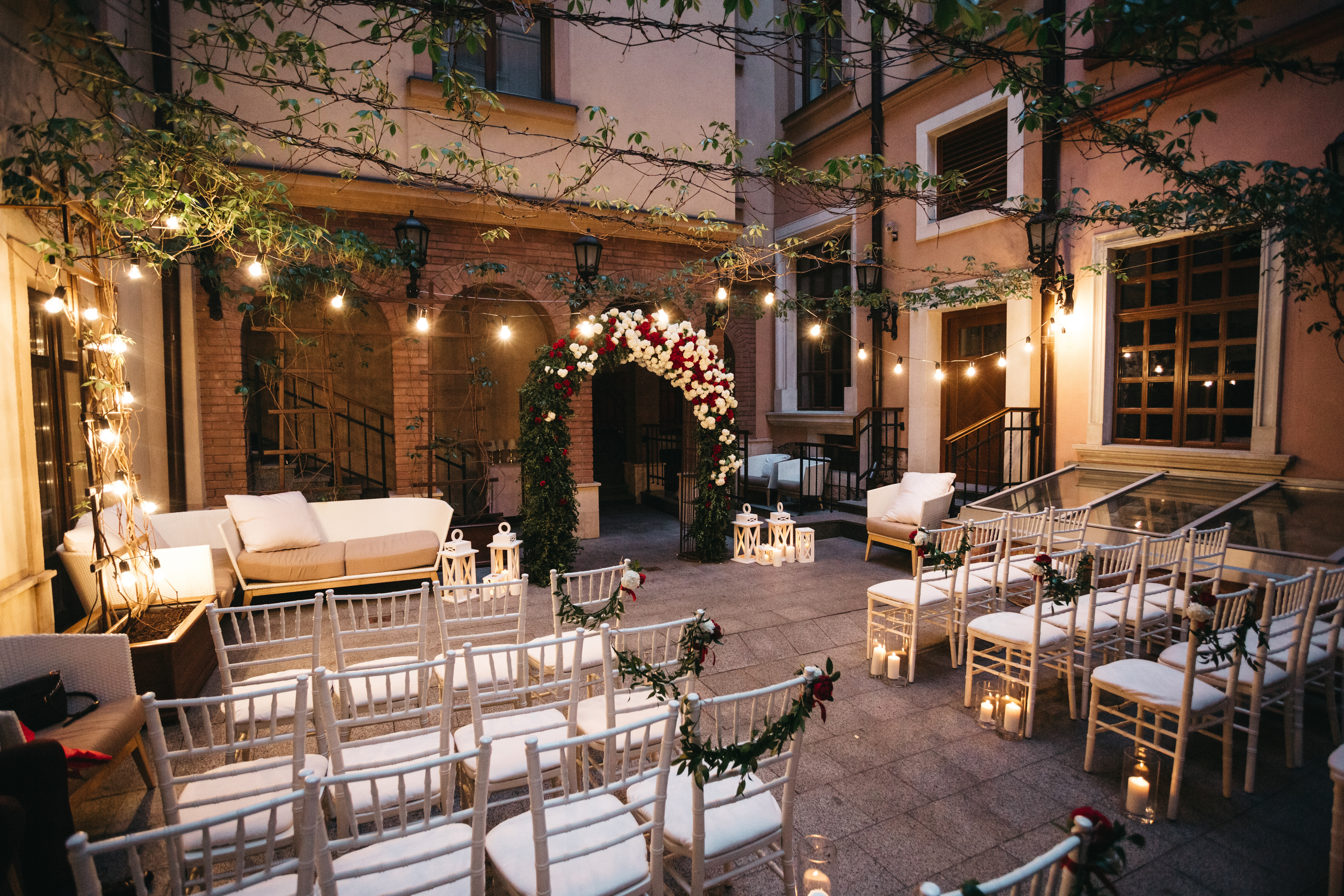 Date & Venue
Choosing your date and venue is one of the most important—and exciting—steps while wedding planning. Your venue will ultimately set the tone for your wedding, serve as the backdrop for your photos, and have the biggest impact on your budget.
Ensure you give yourself plenty of time to browse available venues, understand their pricing, schedule tours, and book early. You'll want to begin looking for venues at least 9-12 months in advance. With your vision already set in place after discussing your inspiration and prioritization with your partner, narrow down the venues you are going to consider. Are you looking for a church, a restaurant, a resort, a community center, a friend or family member's home, or a public park? Are you eloping to a favorite destination or seeking another alternative wedding style?
Once you've seen several venues and chosen the perfect one, check the availability and book your wedding date!
Vendors
Photography

Videography

Wedding Planners

Florist

DJ or Musicians

Catering
Bakery

Hotels

Invitations

Rentals

Transportation
While there is not necessarily an order you need to follow when booking vendors, we recommend beginning with services that you and your partner identified as priorities. If you have your heart set on a specific photographer, or can't imagine your reception without your favorite band, then you're going to want to book them early and ensure they are top priority in your budget.
Prior to meeting with vendors, use the 1-Page Wedding Plan™ to calculate your total wedding budget, which then helps guide your budgets for each vendor. Keep in mind that every couple's budget will look different. Calculate an authentic budget for you, then allocate your budget to the services and vendors that matter the most to you.
Don't Forget Your Wedding Registry
Weddings are fun, and wedding gifts should be too! That's why we started Honeyfund, to offer modern couples a fresh online wedding registry that reflects what they really want – extraordinary experiences.
Honeyfund is for couples who can't imagine starting marriage without a big, bold adventure. With a fee-free Honeyfund page, friends and family's contributions become cash in your hand to travel the world together. Honeyfund can help you fund life's other adventures like buying a home or saving for the future. Every honeyfund reflects your unique style and makes giving quick, easy, and budget-friendly for your wedding guests.
As the most trusted cash gifting site for honeymoons, wedding costs, down payments, charities and more, we've helped more than a million couples make their newlywed dreams come true with our easy-to-use fundraising platform.

Plan Your Dream Honeymoon
First comes marriage then comes… your honeymoon!
It's proven: couples who honeymoon and travel regularly have happier marriages. So prioritize your marriage — not just your wedding day — and make your honeymoon happen.
Start dreaming about where you'd like to travel for your honeymoon. Think about what excursions and experiences you'd like to have. Are you dreaming of waking up to the view of the ocean and sound of the waves? Is hiking and ziplining more your speed? Deciding on these factors will help you choose the perfect destination for you and your partner.
Whatever your honeymoon dreams are, Honeyfund is here to help. Create your Honeyfund today and build your registry with hotel stays, travel fees, and unforgettable experiences.
It All Starts With Your Budget
When it comes to wedding planning, you can't do much until you've set your budget. Our 1-Page Wedding Plan™ helps you check off the first – and most important – step of wedding planning.